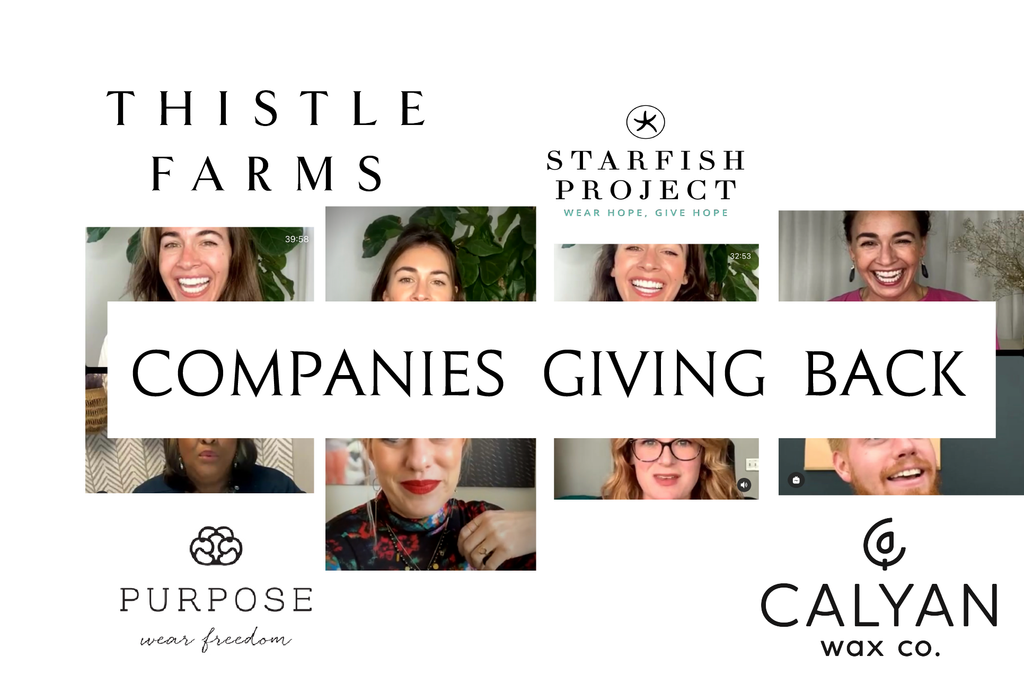 Companies That Give Back
I had the pleasure of sitting down with some incredible and inspiring people who work for companies giving back and making a difference in the lives of human trafficking survivors. It's truly inspiring to hear what these companies have accomplished and know the reason why these companies were created. Please check out and support our new friends and partners in ending human trafficking! 
Here are 4 awesome companies that give back to help fight human trafficking.
Purpose Jewelry
https://www.purposejewelry.org/
https://www.instagram.com/tv/CVizP_YDnHs/
PURPOSE Jewelry's mission is to empower girls and young women escaping human trafficking to embrace their true identity and worth.
Co-Founders, Stephanie Pollaro and Wendy Dailey, both saw first hand the atrocities of human trafficking and asked, "What can we do?" What was needed was a safe and loving workplace where girls could earn a living and gain skills to build their futures. Stephanie moved to Mumbai, India, teaching the art of jewelry making directly to survivors, while Wendy, based in Orange County, California, began educating the community about human trafficking, selling the handcrafted jewelry, and growing the non-profit. There was a gap between rescue and true freedom that International Sanctuary began to fill. The model worked and the supporter base grew as new anti-trafficking partners around the world articulated the need for jobs for girls and women. 
"The happiest day of my life was when I received my first salary from International Sanctuary. It made me financially independent, and I finally had the freedom to choose." - Kiara*, Mumbai Sanctuary.
The Sanctuaries give girls and women a community to belong to. They provide the space where each woman is able to love and be loved, feel safe, and where they are able to heal, grow, and experience unconditional love from their co-workers as well as trauma-informed staff. For many of the survivors, this is the first healthy community they have experienced, and community is a necessary ingredient to unlocking true freedom for each woman.
Caylan Wax co. Soy Candles with a Purpose
https://www.instagram.com/tv/CUsvBAuDfON/
Calyan Wax Co. candles are a simple way for you to take a stand against human trafficking in America. With every purchase of our natural soy candles, you are speaking up for brave young survivors on their healing journey. 5% of all Calyan's revenue is donated to trusted and vetted non-profits. These non-profits have a proven track record of meaningful and effective work serving survivors of trafficking.
$150,318.33 is donated to date, all through candle sales! 
Thistle Farms
https://www.instagram.com/tv/CU-yBHUjHPm/
For over 20 years, Thistle Farms has lit a pathway of healing and hope for women survivors of trafficking, prostitution, and addiction.
After experiencing the death of her father and subsequent child abuse when she was 5, Becca Stevens longed to open a sanctuary for survivors offering a loving community.In 1997, Becca opened our first home as a sanctuary for 5 women survivors. Four years later, the women were making great strides in recovery, but struggling to become financially self-sufficient due to employment barriers. To address this, Becca, volunteers, and residents began making candles in a church basement and, in 2001, Thistle Farms social enterprises were born.
At Thistle Farms, we don't ask, "What did you do?" We ask, What happened to you?"Most of the women we serve first experienced sexual abuse between ages 7-11 and began using alcohol or drugs by age 13, and first hit the streets between the ages of 14 and 16. Traumatic childhood experiences give way to homelessness, addiction, further abuse, and incarceration, often compounded by poverty. We believe that love is more powerful than all the forces that drive women to the street, and a strong community will help them not only heal, but thrive.
How Love Heals
Together, we heal by ensuring access to safe and supportive housing, financial independence, and a lifelong community of support. 
Together, we rise up against systems that commoditize, criminalize, and abuse women.
Thistle Farms is a nonprofit social enterprise dedicated to helping women survivors recover and heal from prostitution, trafficking, and addiction. We do this by providing a safe place to live, a meaningful job, and a lifelong sisterhood of support.
Starfish Project
https://www.instagram.com/tv/CVQya0qj7Pv/
Starfish Project is a social enterprise with a holistic care program that cares for women escaping human trafficking and exploitation in Asia. At Starfish Project women and girls experience freedom, establish independence and develop careers. They have employed and trained over 160 women and served thousands more through our community outreach.
Started in 2006 as a small group of friends who couldn't simply walk by the women and girls they observed being exploited around their city in Asia. None of them had a business or jewelry design background. What they shared was a desire to restore hope and bring freedom. "We never imaged that today our jewelry brand would be loved by women all around the world who share the same vision." Jenny- Founder of Starfish Project 
THE STARFISH PARABLE -
One day, an old man was walking along a beach that was littered with thousands of starfish that had been washed ashore by the high tide. As he walked he came upon a young boy who was eagerly throwing the starfish back into the ocean, one by one.
Puzzled, the man looked at the boy and asked what he was doing. Without looking up from his task, the boy simply replied, "I'm saving these starfish, Sir".
The old man chuckled aloud, "Son, there are thousands of starfish and only one of you. What difference can you make?"
The boy picked up a starfish, gently tossed it into the water and turning to the man, said,
"I made a difference to that one!"